| | | |
| --- | --- | --- |
| | Tetra Pack | |
Tetra Pack is a collection of 5 new Tetris games with original ideas you will not be able to find anywhere else!
In Tetra Pack you try to prevent the board from filling up completely by arrangement pieces into a cluster of Lines, Blocks or Polyomino of the same color. Such cluster disappear, increasing your score and freeing the board.

The full version of Tetra Pack features:

5 varied game types + 5 hard modes to enjoy:
Tri-Polyomino, Tetra Lines, Noise Tetra Lines,
Extended Tetra Lines and Tetra Blocks.

Unlimited gameplay.
Wonderful full-screen graphics.
80 levels of undo and redo.
Save game feature.
Customizable graphics.
Record your top 120 scores for each game type.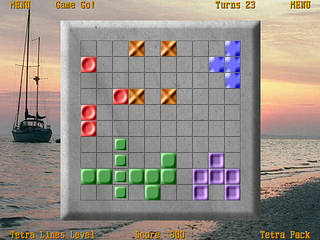 1001 Lines is a collection of 6/45+ addictive puzzle games for Windows. It features versions of well-known classics and great original ideas you won't be able to find anywhere else!
1001 Lines includes Tetra, Coolumns, Falls, Lines, Rolls and Swaps Packs.