Main Page
1001 Lines Puzzle
Games Pack
ORDER PAGE
Contact Links
Art Revolution 9 Screensavers

Art Revolution 9 Sea Sunset Screensaver Now!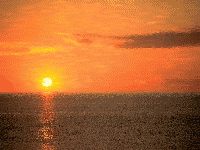 Download Demo
About Art Revolution 9 Sea Sunset ScreenSaver
Watch natural sunset on background moving clouds and alive sea on your desktop. Screensaver displays beautiful sea sunset image, which is differently repainted and animated by means of original technologies.
All moving objects are rendered in real time.
Enormous amount of parameters can be adjusted on your preferences. This screensaver works as animated desktop wallpaper under extra application, included in package.
No spyware, no adware. Uninstaller included.


| | |
| --- | --- |
| Small Menu | Interface - Expert Menu |
| | |

 From Screen Saver Readme

 1. Screensaver fullscreen hotkeys.

 Escape     exit from screensaver application
 W          save screenshot as desktop Wallpaper
 M          toggle color "Matrix" screen modes
 SPACE      toggle Help picture show state

 Z          toggle picture Zoom modes
 12...90-+  toggle picture Resolution

 Arrows toggle Color Source mode:

 Up         use Original color as Color Source
 Down       use first Transform Library item as Color Source
 Right Left use next/prev. Transform Library item

 2. Animated Desktop Wallpaper.

 This screensaver works as Animated Desktop Wallpaper under extra-
 ordinary program named "Vital Desktop" by Oleksandr Fedorenko.

 First you need setup program, click to desktop icon
 "Setup Animated Desktop Wallpaper by".

 Than open your "Display Properties" window by right-clicking on
 desktop background.
 Click on the "Vital desktop" tab and check "Enable"
 with "Art Revolution 9 Sea Sunset" Vital plugin.

 To adjust Animated Wallpaper you can click on
 "Configure Sea Sunset" link, do changes and push "Apply" button.

 Download Vital Desktop

 NOTE:'s extra don't support by VMGames!

 3. Problems and suggestions.

 This screensaver is written for Windows, it uses DirectX 7.0.

 This is free demo version, so there is no full support available
 for it, but feel free to send beta reports and suggestions.
   
 P.S.
 Parent project - Active Pictures